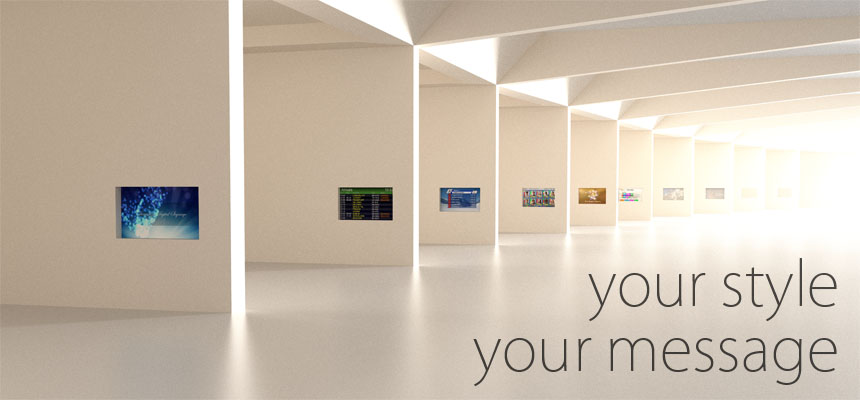 software for creation and display of
digital information screens and real-time graphics
About
If you want to create public real-time information screens or motion graphics that contain text, images, video, 3D objects, charts, maps or data visualization, this software is for you!
Using state-of-the-art software technologies, this software allows you to create vibrant information screens that automatically update themselves with the latest available information using an easy-to-use data coupling mechanism.
This software helps corporations to drastically reduce the effort and cost of creating dynamic real-time graphics that attracts the audience's attention.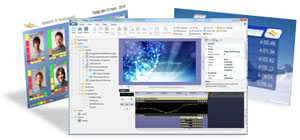 Buy
Demorize Digital Signage (standalone)

Buy Demorize to unlock the full potential of the product. This software product contains everything you need to get started with digital signage and is available for online purchase.

For full price list, visit the Demorize pricing information page.
Program Features
Dual Heights Demorize is a versatile software product that can be used for all types of displays where information or graphics needs to be presented.

You can create anything from airport flight information displays to corporate news televisions, real-time TV broadcast graphics, sports statistics and entertaining kiosk applications.

Demorize can use data integration to a wide range of sources for instant and automatic update of information.

The software is architected to work for a wide range of solutions ranging from small self-contained products to large centralized graphics networks across geographical sites.
System Requirements
Dual Heights Demorize is a software suite that runs under Microsoft Windows Vista, 7, 8, 10, Windows Server 2008, 2008 R2, 2012, 2012 R2.
The software requires that .NET Framework 4.5 is installed.